TedTalk 
on 
RITE Policing
"
The RITE program is timely especially in today's society, and what we are facing as a profession. It provides skills to help officers become more aware of not just what's in front of them, but what's inside of them. RITE Tools helped us with officer accountability, and to practice EI lessons beyond class.
We take training seriously. 
These stats
showed our community we care about them. I highly recommend RITE for all public service professionals, not just LE and DOC." ~ 
Sgt. Fred Jones
, Lake County Sheriff's Office, Lake County FL
"The RITE Ladder and Stop-Light are Key!
 Our officers learned you can STOP, rethink, apologize for how you just acted or just correct yourself… It's not too late,
you can always de-escalate.
"   ~ 
Chief Rob Hicks
, Leesburg Police Dept. FL
"The most informative training I've ever received. It's something that can be used in my everyday life. RITE came at a time when I needed it most, and
our officers have embraced RITE training!
"
~ Officer Shaunda Wilson, NIU, IL
RITE History and Customers
RITE Academy originally addressed the public safety industry in regards to officer wellness, executive leadership, diversity training, de-escalation communication, harassment, emotional and social intelligence, professional development, and ethics.
With RITE's on-going success, we continue to expand into all industries. RITE'S educational take-away tools after class, is what has made a difference
Schools, Colleges, and Universities (Includes Staff, Faculty and Students) LINK to more
Public Safety (Police, Campus, Fire, EMS)
Corrections (Parole & Probation, Inmate Release and Youth Offender Programs)
Schools, Colleges, and Universities (Security, Staff, Faculty, Students)
Government (Federal, State, County, City)
Professional Sport Organizations and Teams
Corporations
Community Programs, Church Organizations
Congressional Education for Public Service Reform and Community Engagement
Professional Organizations and Affiliations (Police & Sheriff's Associations, Fire Chief Associations, SHRM)
RITE Survey Results
Because our surveys are anonymous, collecting REAL feedback from training, collects REAL data for your company. Employees are likely to provide feedback in a private survey method.
Employees, Staff and Students learn first how improve themselves (personally) and ways to understand and improve their implicit bias and internal communication. Teaching tools and techniques that improve the communication (EI) on the front line, help De-escalate situations, is step one. This unique form of diversity and inclusion training helps create an awareness of how we affect others, and that only we have the power to make internal changes. This is NOT a course that puts us down… rather it makes us a better person, which improves the department, and builds community trust!
Want to see where your money goes? Post-training surveys show training dollars, well spent. 
RITE teaches with Front-line approach:
CHIEF: "This is NOT your 1980's cultural diversity training, that would beat our officers down. We looked for a less academic, easy-to-use training, officers will use. We needed better ways to communicate, and De-Escalate situations more effectively. Finally, a training that supports our officers AND our community… We found it in RITE!"

RITE: We heard you loud and clear, and we have it! Don't take our word for it, LEARN for yourself what makes RITE, right on target for your department needs!

Emotional and Social Intelligence RITE Tools empower officers with improved communication (on and off the street), while building departmental morale and community trust at the same time.  The RITE training puts Officer Wellness on the front line. Helping the officer improve on a personal level, is the first step to your officers (and the departments) ultimate desire… career resiliency.

Officer Wellness: Tools for Career Resiliency, Implicit Bias, De-escalation Communication
Improve the Department: Recruiting, Improve morale, Accountability
Build Community Relations: Enhance community policing and public trust
RITE's Block-Out Syndrome is when a person only sees their outcome, becomes unresponsive or abrubtly aggressive towards another, causing an unnecessary negative outcome. This is often seen when employees can't 'connect' with others. 
Why Emotional & Social Intelligence?
Emotional Intelligence (EI) is learning to become aware of our emotions, and to acknowledge that emotions drive behavior that can impact others (positively and negatively). Learning to manage our emotions, in the moment, is crucial.

     RITE teaches key components of Emotional Intelligence that includes: Emotional Self-Awareness, Behavioral Self-Control, and Ethics and Integrity. This combination helps to improve our EI, at work as well as at home. Improved de-escalation and cultural diversity awareness starts here.

Social Intelligence (SI) is how we effectively navigate and negotiate all social relationships and situations. Learning and using your EI, is beneficial to improving your SI.

    RITE teaches key components of Social Intelligence that includes: Situational Awareness, Empathy Communication, and Conflict Management. These social skill-building lessons help to improve our SI, on the street, in the department, and at home. Working on one's Social Intelligence, improves de-escalation skills.

SI Example
Videos Testimonials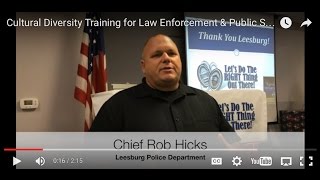 Chief Hicks - RITE Leadership Training for Law Enforcement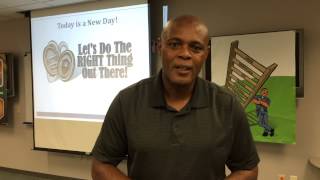 Sgt. Jones - De-escalation Training starts here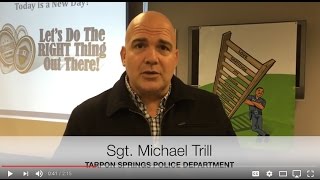 (3) Training Sgts on Racial Intelligence over Cultural Diversity
Chief Hicks - RITE Leadership Training for Law Enforcement

"RITE is Critical training for law enforcement Leaders and Officers." Police Chief Hicks of Leesburg PD, explains why the RITE program is right for cultural diversity change not only in his department, but for all law enforcement.

Sgt. Jones - De-escalation Training starts here

"For over 19 years I've gone to a lot of courses. This is the first course that helps the officer first, which can help the department and help the community." Sgt. Fred Jones RITE Training combines Emotional and Social Intelligence self-awareness techniques.

(3) Training Sgts on Racial Intelligence over Cultural Diversity

Sgt. Mack (Leesburg PD), Sgt. Rodriguez (Lake County Corrections), and Sgt. Trill (Tarpon Springs PD) talk about their experience after taking the RITE Train-the-Trainer course.
Career Resiliency
By teaching critical components of both Emotional Intelligence (EI) and Social Intelligence (SI), long-term resiliency awareness improves, as well as personal and professional relationships, inside and outside work walls. There are (6) modules that are covered in every RITE Training, from our Leadership, to First-line supervisor, to Train-the-Trainer to Officers classes.
We always encourage students to share what they learned and explain the RITE tools with co-workers, family, friends and the community for which they serve. The more we share our knowledge with others, the more we learn the lessons we need for resiliency, and hold ourselves accountable to our actions. Learn how to apply the RITE model of EI+SI=RI in class using RITE handbook and tools. 

Six (6) Modules on Emotional Intelligence (EI) and Social Intelligence (SI), improves De-escalation Communication, enhances career resiliency and health
RITE training improves officer's personal life, which affects work life, and visa-versa
Take-a-way Tools for continued work after the training ends
Commanders and Executive Leaders are given recruitment techniques as well as accountability tools for each employee to use after the training for continued improvement.
"In Corrections, you don't have as many tools as the police officer on street. You don't have a taser, or baton, or pepper spray. You have a radio, and handcuffs, and the biggest tool is your mouth. How to treat people is what RITE training is all about.  ~Sgt. Elvin Rodriguez, Lake County Corrections


Agency Accountability Standards
To take ownership of your thoughts and actions, improves accountability. The true meaning of accountability comes from the ability to (influence and) account for events and outcomes before they happen. RITE Academy recognizes departmental need for more proactive training and engagement, verses reactive. RITE Accountability Standards assure your department will receive the highest standard of Training.
Cultural Diversity Officer Wellness Course taught by a RITE Certified Trainer
Documented record with written exam (shows employee received De-escalation Training)
All employees receive their own RITE Tools (for practice post-training)
RITE Certificate for each personnel file (shows dept. accountability)
Higher standards of building community relations and trust
RITE programs reinforce your department policy that reduces racial intolerance, while making positive cultural changes. By providing each employee with accountability tools, the RITE model lays the groundwork to encourage positive employee engagement. This course reinforces proper conduct as an employee of the department, and the documentation if ever needed in an employee personnel file. Officer Wellness is the pillar of strength that RITE teaches for improving employee performance. Put Officer Wellness on the Front-line for your next training class. When you improve the person, you improve the profession, the department, and build community trust.
Even the best training can be forgotten after 1-2 weeks. RITE training continues in your department well after the training ends, because of our unique RITE Tool Kit. Students will learn how to use these tools in the training (i.e.: De-escalation Communication & Resiliency Awareness), and continue using them well after the training ends.
"The RITE model starts with Emotional Intelligence (EI), to improve Officer Wellness… one of the 6 Pillars in 21st Century Policing."
"In today's racially diverse world, communities need Emotional and Social Intelligence to thrive. With an increase in negative media attention, now is the right time for the RITE program. When you improve the person, you improve the profession." ~ Randy Friedman
Our training has received the IADLEST national seal of approval, the highest standard of training.