Chief Gary Adams – Richmond Police Department, Richmond, TX
If you are a chief and looking for a training program to address the premise that your officers need to be aware of their personal biases in order to effectively deal with others, I am recommending you look into RITE Academy. The training is second to none and, unlike the "canned training" we have all had to sit through, this is a dynamic fast-moving course, presented by two very dynamic instructors.
We all need to look at ways for our employees to improve their interactions with the public, especially in today's society. We all know it only takes one employee to come to work in a bad mood and fail to de-escalate a situation that will create mistrust of us all. RITE Academy will give you and your employees the knowledge to stop this sort of behavior before it occurs. Remember this is the beginning of a New Day so encourage your employees to think positive at work and at home.
Experience on LinkedIn
President, Texas Police Chief's Association
Chief, Hot Springs Police Dept., Hot Springs, AK
Chief, University Park Texas Police Dept., Dallas, TX
Chief, Texarkana Police Dept., Texarkana, TX

Chief Chris Albers – Pima Community College Police Department, Tucson, AZ
RITE Academy training is unique and innovative. The instruction is dynamic and
applicable to any agency seeking to build an organization committed to excellence with service with integrity and humility.
I am so grateful to the instructors for delivering a course that is positive and affirming and that recognizes that we are all human… we need to take care of each other and hold one another accountable in a positive, professional manner.
This training is just right for the organization looking to set a new, positive direction and that seeks to value everyone… our community, and ourselves.
Experience on LinkedIn
Chief of Police, Pima Community College District, Tucson, AZ
Chief of Police, Georgia Perimeter College, Decatur, GA
Deputy Chief, Biola University, La Mirada, CA
Chief Bobby Floyd – Vinita Police Department, Vinita, OK
I went through the RITE training "Racial Intelligence" train the trainer course a few weeks ago and I could not wait to share it with my Police Officers/civilian employees at my department. I conducted our official training yesterday and the response was amazing. I knew going in it could be a test on getting through to some of my "seasoned" guys, but everyone in the room quickly realized RI is fundamental in how we approach every call. Grown men were sharing stories, laughing at each other, and growing as a department.
My department is moving forward with the RITE tools and we are proud to say we are the first in Oklahoma to be apart of this movement! Thank you Randy with all the help and and I encourage everyone in the Law Enforcement field to give RITE Training some serious thought because you WILL NOT be disappointed.
Experience on LinkedIn
Chief of Police, Vinita Police Department, Vinita, OK
Assistant High School Football Coach, Vinita, OK
Chief Chuck Broadway – Clermont Police Department, Clermont, FL
The RITE training is an outstanding course and a philosophy that focuses on the public service professional so that he or she could effectively serve their respective communities.
The RITE training will only enhance ones communication skills, empathy and overall service during a time when we are facing division and communication barriers in certain parts of our country. I highly recommend RITE training!
Experience on LinkedIn
Chief of Police, Clermont Police Department, Clermont, FL
Police Captain, Clermont Department, Clermont, FL
Chief Rob Hicks  – Leesburg Police Department, Leesburg, FL
One of the key things I got out of this, was even though you may have a bad start, you've had a bad day, you're "low on the ladder" and you realize that your interaction is not going well… you can stop, you can rethink, you can apologize for how you just acted or just correct yourself… It's not too late, you can always de-escalate.
What was most impressive about RITE, was it presents the information in a way that's critical right now in law enforcement, to law enforcement leaders, and law enforcement officers in a way that they're going to be able to comprehend.
We are starving for a model that works… a model where our employees are going to come in, get something out of it, and have a positive exchange. They're going to feel like they got a value during this training. I think the RITE Academy model is exactly what law enforcement needs right now.
Experience on LinkedIn
Chief of Police, Leesburg Police Department, Leesburg, FL
Various ranks, Leesburg Police Department, Leesburg, FL
Superintendent of Police Mike Chitwood – Upper Darby Police Dept., Upper Darby, PA
The impact of this education remains highly visible across the spectrum of our law enforcement agency. Officers continue to make reference to their location on the "emotional ladder and the racial intelligence coin can be found on prominent display at agency workstations.
It has become clear to the command staff that the emphasis on emotional and social intelligence has resonated with the officers working in the field. READ FULL LETTER HERE
Experience on LinkedIn
Superintendent of Police  – Upper Darby Police Dept., Upper Darby, PA
Chief of Police, Portland Police Department, Portland, OR
Chief of Police, Middletown Township Police Department, Middletown Township, PA
Homicide Detective, Philadelphia Police Department, Philadelphia, PA
Investigations, Philadelphia Police Department, Philadelphia, PA
Chief Jeff Scott, CLEE – Executive Director OPOTC / OPOTA Ohio Peace Officers Training Academy, OH
Randy and Linda are true, compassionate and passionate professionals who deliver programs that have positively impacted my police agency. RITE academy and their courses are foundationally grounded and able to speak to any level of academic learner. The principles of their programs allow the learner to absorb and apply all the concepts with ease and success.
Our agency mandates every officer have the RITE academy tools as we firmly believe the skills and approach are exactly what every public safety agency or any industry should have as a foundation when dealing with others. RITE academy is an industry leader and model that all should follow in their careers and personal life. It is without any hesitation that I recommend RITE academy and we will be clients for years to come.
Past President, Ohio Police Chief's Association
Sgt. Fred Jones – Lake County Sheriff Office, Tavares, FL
We recently started implementing the RITE program at our agency here in Lake County, FL. The first phase of implementation was with our Road Patrol unit and will continue with all the specialized units in our agency at which time the Detention Deputies will also go through the training. I have received positive feedback from the deputies including those such as "I like this program because it is a program about us and how to be aware of where we are emotionally at all times"
The Rite program is a timely program especially in today's society, and what we are facing as a profession. It provides skills to help officers become more aware of not just what's in front of them, but what's inside of them. I highly recommend this program as a tool that any and every officer from those at the beginning of their career to those heading toward retirement can benefit. Thank You Randy Friedman for introducing this program to our agency.
Recommendation Letters
Watch the YouTube video interviews below, or on our media page. Get all your questions answered on our FAQ page!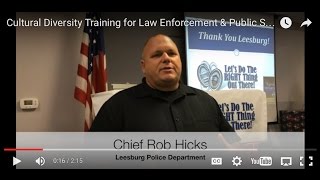 Chief Hicks - RITE Leadership Training for Law Enforcement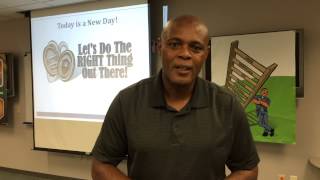 Sgt. Jones - De-escalation Training starts here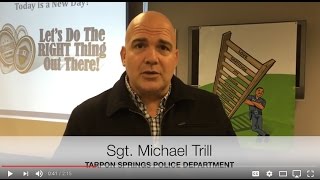 (3) Training Sgts on Racial Intelligence over Cultural Diversity
Chief Hicks - RITE Leadership Training for Law Enforcement

"RITE is Critical training for law enforcement Leaders and Officers." Police Chief Hicks of Leesburg PD, explains why the RITE program is right for cultural diversity change not only in his department, but for all law enforcement.

Sgt. Jones - De-escalation Training starts here

"For over 19 years I've gone to a lot of courses. This is the first course that helps the officer first, which can help the department and help the community." Sgt. Fred Jones RITE Training combines Emotional and Social Intelligence self-awareness techniques.

(3) Training Sgts on Racial Intelligence over Cultural Diversity

Sgt. Mack (Leesburg PD), Sgt. Rodriguez (Lake County Corrections), and Sgt. Trill (Tarpon Springs PD) talk about their experience after taking the RITE Train-the-Trainer course.
RITE Training promotes Bias-Free Policing to de-escalate 95% of calls. Unique cultural diversity with EI & SI improves communication, builds Career resiliency, and improves Department morale. See our EVENTS page for a training near you, or become a Host site! Contact us about TRAINING for your agency.