All of our Programs Cover this (and more):
Bias-Free policing with Cultural Diversity and Inclusion (Campus & Police) 
De-escalation skills using Emotional and Social Intelligence
Career and Department
Resiliency with Mental Health Awareness
Officer Wellness – 6th Pillar of 21stCentury Policing
Implicit Bias and Critical Thinking – How to avoid Block Out Syndrome
Improving dept. recruiting initiatives (for Leadership)
University and Title IX bias-free awareness training
Group participation, team-building, and action plan initiatives

RITE Train-the-trainer Graduate, just days after class: "Our Chief Firearms Instructor asked if I could help out an officer who is in our academy and is struggling with shooting his firearm. If he doesn't pass the qualification this week, he will be let go. You can imagine the stress and other emotions this young man is going through. So, this past Saturday, I met him at our shooting range to train him on…" ~ Read what happened HERE

RITE combines Emotional and Social Intelligence
techniques, unique to an officer's communication needs. These critical skills (that most officers need, yet rarely learn), help improve De-escalation, Officer Wellness, and career Resiliency. This cutting edge, 21st century in-service training is for all public service professionals who are looking to build a better foundation towards positive employee engagement, on and off the streets. RITE programs reinforce proper conduct as an employee of the department (LE, Corrections, Fire, and City), and the documentation that strengthens standards, if ever needed.
"Racial Intelligence (RI) is the practice of using Emotional Intelligence (EI), Social Intelligence (SI), and the RITE Tools, to treat ourselves and others fairly."
RITE's four (4) motivational training programs are designed to coach, motivate and inspire your employees with unique Emotional and Social Intelligence lessons that create cultural changes in the department. All programs teach the (6) RITE modules (life lessons), that go beyond the ordinary cultural diversity and inclusion, sensitivity training, and actually improve individual lives. RITE is approved by the IADLEST NCP and in 33 POST Academies. Officers receive (4) CE Credits. Our training has been known to even improve marital relationships!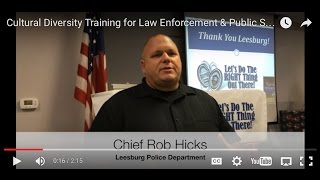 Chief Hicks - RITE Leadership Training for Law Enforcement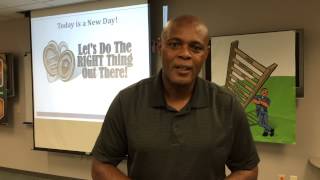 Sgt. Jones - De-escalation Training starts here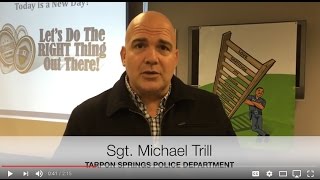 (3) Training Sgts on Racial Intelligence over Cultural Diversity
Chief Hicks - RITE Leadership Training for Law Enforcement

"RITE is Critical training for law enforcement Leaders and Officers." Police Chief Hicks of Leesburg PD, explains why the RITE program is right for cultural diversity change not only in his department, but for all law enforcement.

Sgt. Jones - De-escalation Training starts here

"For over 19 years I've gone to a lot of courses. This is the first course that helps the officer first, which can help the department and help the community." Sgt. Fred Jones RITE Training combines Emotional and Social Intelligence self-awareness techniques.

(3) Training Sgts on Racial Intelligence over Cultural Diversity

Sgt. Mack (Leesburg PD), Sgt. Rodriguez (Lake County Corrections), and Sgt. Trill (Tarpon Springs PD) talk about their experience after taking the RITE Train-the-Trainer course.
CLICK each Video above – Hear what Officers and Trainers say about RITE 
RITE Programs and Pricing
What is The RITE Tool Kit?
The RITE Tool Kit is THE biggest difference from any other course offered for public service professionals. Top athletes use the right Tools to train with to improve their sport, yet employee training rarely leaves the individual with tools they can practice with and continue learning… until now!
All RITE Academy programs include key Tools for each student to work with and learn from, during and after class. These tools allow the learning to continue personally and professionally well after the class is over. This is the key to success with RITE training. It takes 21 days to change a habit and improve behavior.
TOUCH RED TOOL KIT For PDF Info on Tool Kit
Who are the RITE Programs are for?
The public service professionals including command staff and leaders, police and corrections officers, fire, city and University staff will benefit from the RITE program. With departments under the radar to public scrutiny, easy access to public video, usage of body cams, witnesses shooting video, and heightened awareness of public opinion, the RITE program teaches your officers and staff how to handle stress in an effective way. Imagine bringing in Cultural Diversity Training, they'll actually enjoy and use, personally, professionally, and in the community.
Where are the RITE Programs conducted?
Our RITE trainers travel to your police department, corrections facility, academy, or host training facility, OR you can come to us in the Orlando Florida area. Whether you choose the Executive Leadership or First-Line Supervisor Course, the Train-the-Trainer Course for your instructors, or the Officer Wellness for Public Service Professionals Course, you can be certain the instruction and presentation will be top-notch. Communities love when we come to town, as Racial Intelligence helps build community relations and trust! RITE gives your department an opportunity to share what you are doing with the media, and get some positive press!
"RITE Officer Wellness Training adds that pillar of strength departments need right now. Our core model teaches Emotional and Social Intelligence techniques, with the use of RITE Tools. This helps improve employee performance, department morale, and community relations." ~ Randy Friedman, Director of Training
RITE Academy Teaches: